ANALISIS PERILAKU HEDONISME MAHASISWA DALAM PEMBELIAN SKINCARE SECARA ONLINE SELAMA MASA PANDEMI 
Beatrice Karmila Devi

Atma Jaya Yogyakarta

Bunga Widiantoro Putri

Universitas Atma Jaya Yogyakarta

Irene Iola Auxilia Benedecas

Universitas Atma Jaya Yogyakarta

Chrismada Melvin Teodes Sitepu

Universitas Atma Jaya Yogyakarta

Putri Nastiti

Universitas Atma Jaya Yogyakarta
Abstract
The current Covid-19 pandemic has an impact on various sectors of life, especially in the economic and shopping sectors. During the pandemic, many students stayed at home and conducted lectures online. The existence of e-commerce provides a sense of security in transactions, where students can buy various kinds of their needs. However, with the existence of e-commerce, students make purchases that are not controlled. Problems like this will change the behavior of students to live hedonism and behave consumptively. Supported by the widespread sense of wanting to beautify themselves among students which can lead to excessive online skincare purchases. Based on the above phenomenon, the researcher wants to analyze the consumptive behavior and hedonism of students. Therefore, this study aims to determine the factors that cause the tendency of hedonistic behavior among students to purchase skincare online. The method used is the Hedonic Motivation System Adoption Model (HMSAM) and Descriptive Analysis. The target of this research is 120 students from Atma Jaya University, Yogyakarta. The result of the study found that the e-commerce convenience (Perceived Ease of Use) was able to increase the shopping intensity of Atma Jaya University Yogyakarta students, resulting in hedonism and consumptive behavior. 
Downloads
Download data is not yet available.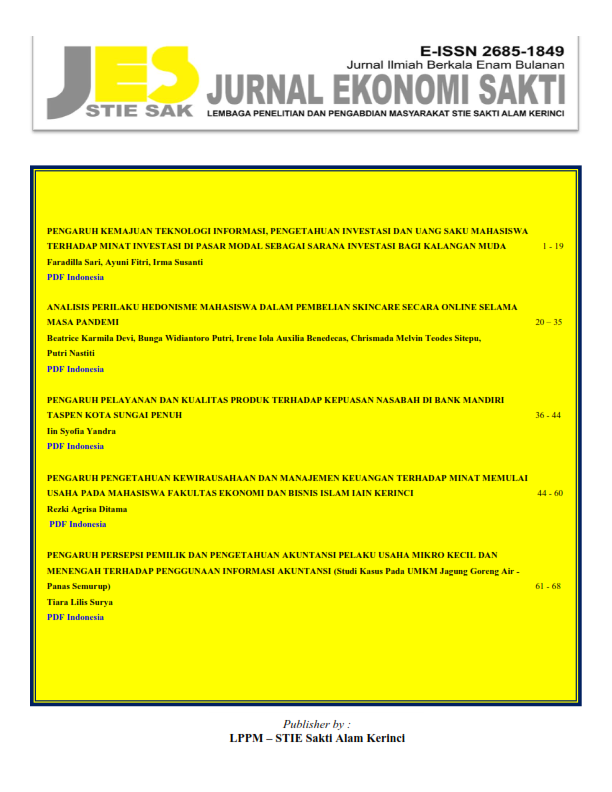 This work is licensed under a Creative Commons Attribution 4.0 International License.